Stock Journal Feature, August 2022
Author: Tim Prance, T Prance Rural Consulting Victor Harbor and Dr James Maino, Cesar Australia
Red legged earth mite (Halotydeus destructor) are one of the most important invertebrate pest species in Australian agriculture. They are common and widespread, and active from autumn to late spring.
Red legged earth mite (RLEM) is primarily an establishment pest and, in extreme cases, can contribute to pasture establishment failures. Importantly, due to the lifecycle of the pest, which hatch in autumn from eggs laid the previous spring, pest management in the previous growing season is a critical consideration.
In autumn, over-summering RLEM eggs hatch as soon as there is significant rainfall, and the mean daily temperature falls below 19°C. These RLEM then lay eggs that mostly hatch during winter, taking approximately 4-6 weeks for nymphs to develop into mature adults. In spring, adult mites produce over-summering diapause eggs that are retained in their bodies which then provide a source of RLEM infestations following the opening rains the next year.
Insecticide resistance has been confirmed in multiple RLEM populations in the upper south east, Fleurieu Peninsula and on Kangaroo Island to both synthetic pyrethroids, including bifenthrin and alpha-cypermethrin, and organophosphates, including omethoate and chlorpyrifos.
Cesar Australia is offering a free screening service to test for insecticide resistance in RLEM populations within South Australia, Victoria, NSW and Tasmania. The screening is at no-cost for Australian grain growers and advisers, thanks to funding from the GRDC.
It is highly likely resistance is more widespread than previously reported, which will require an increasing use of nonchemical control methods.
There are a number of insect predators which can effectively control red legged earth mite, albeit with a lag phase, so these predators need to be supplemented with non-chemical control methods outlined below
Keeping pastures short in early spring by grazing to less than 1.4 t/ha (5cm high) food on offer. This significantly reduces the number of over-summering eggs laid by RLEM. Research in WA has shown that keeping pastures short in spring has the same effect on RLEM numbers in the following autumn/winter as two insecticide sprays at that time. It is important to control populations in spring rather than rely on insecticides in autumn. Obviously not every paddock can be kept that short in spring, so paddocks will require prioritisation for the heavy grazing treatment including not being closed for hay/silage every year.
Sow RLEM tolerant sub clover varieties such as Narrikup, Bindoon or Rosabrook.
Control weeds such as capeweed and salvation jane (and legumes) in and around crops, particularly on fence lines or in paddocks where mites have hatched and are feeding on pre-sowing weeds. This is especially important in 'late break' years. Weeds are best sprayed before adults lay eggs (within 3 weeks of mite appearance). You can estimate autumn hatch timings for your location here: https://cesaraustralia.com/pestfacts/new-redlegged-earth-mite-hatch-timing-tool/
Timerite® is a carefully timed chemical application in spring applied before the RLEM produce their over-summering diapause eggs. The Timerite® date is dependent on property location and can be found by going to https://www.wool.com/land/timerite/ and entering the grid reference coordinates for your paddock. The date remains the same every year. The insecticide spray should be applied no more than two weeks before the Timerite® date and not afterwards. Like any pesticide application, the Timerite® spray can cause resistance to insecticides so only spray a paddock when necessary, and never spray the whole farm, to enable predators and RLEM susceptible to insecticides to build up. Remember to rotate chemical groups.
In WA research has shown Timerite® is more effective on shorter pastures where FOO was less than 3,000 kg DM/ha compared to tall pastures where FOO was more than 6,000 kg DM/ha.
Bare earth sprays before RLEM hatch should be avoided, as should preventative or prophylactic insurance sprays. RLEM eggs are not susceptible to sprays, so these applications can do more harm than good by disrupting populations of beneficials. If you must spray RLEM, rotate chemical groups for each spray. Do not spray the whole of every paddock to give a chance for predators and RLEM susceptible to insecticides to build up. RLEM often move in from weeds around paddock edges, so consider a barrier spray with an insecticide rather than spraying the whole paddock.
Researchers at The University of Melbourne and Cesar Australia have collected pyrethroid resistant and susceptible redlegged earth mite populations from the field, then tracked their offspring over several generations to assess if there were any differences in fitness between the susceptible and the resistant populations of mites. The results of the research demonstrated fitness reductions associated with pyrethroid resistance. Populations that had a high proportion of resistant mites showed lower reproduction rates than those that had fewer, or no resistant mites. The researchers also found that the resistant genes gradually became less common in the populations over time. So, when mite populations are no longer exposed to pyrethroids, they begin to lose their resistance Whilst this information is reassuring, reversion to susceptibility can take many years even in the complete absence of pesticides. Non-chemical methods will become increasingly important for controlling RLEM.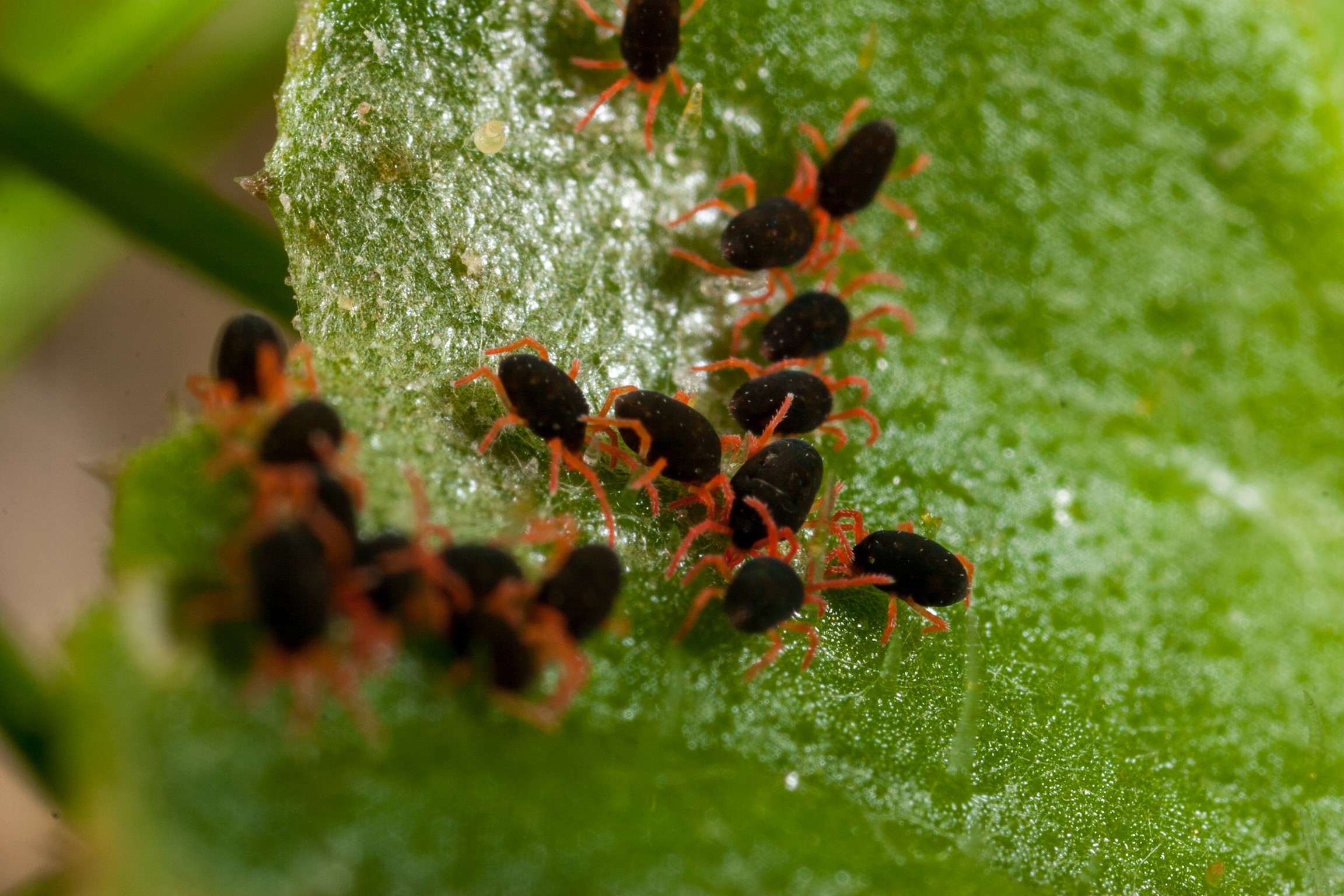 Figure: Red Legged Earth Mite