Background
Keith Bolto and his family have a self replacing Merino flock and normally run around 5,400 Merino breeding ewes, 4,200 hoggets and have a balance of 4,300 wethers. Their focus has been to continue to reduce micron whilst increasing fleece weight per hectare.
For the last three years Keith has been financially benchmarking the property and has been part of the Kangaroo Island Sheep Production group, run by Greg Johnsson. The family has been using Kangaroo Island sheep consultant (and vet) Greg Johnsson for the last 20 years within their business. Greg set up a demonstration farm on one of his client's properties to evaluate and demonstrate best practice and new technologies to other producers within the group. The demonstration farm business, "Turkey Lane" owned by John Symons, achieved huge increases in income per hectare between 2000 and 2012 as a result of the changes made to their business during this time.
Since working with Greg, the focus for the Bolto family has been to achieve a similar lift in production and income per hectare as that seen on the demonstration farm. For a wool growing enterprise, one of the key drivers for profitability is fleece weight per hectare. With a goal to increase their greasy fleece weight by 13 kg per hectare and to reduce fibre diameter by 1 micron within the next 5 years, they decided to improve the genetic base of their flock through the use of superior Merino sires.


From left to right: Bolto brothers Colin, Ian and Keith along with Keith's son Alby.
Breeding Objective
Their breeding objective has been to increase fleece weight, whilst at the same time continuing to reduce fibre diameter. They are also cautious about adult body weight getting too big as this reduces the number of sheep they can run per hectare. With a requirement for a Merino ram team of 80 rams, an artificial insemination (AI) program was justified. Utilising a nucleus flock of 200 breeding ewes, they source semen based on MERINOSELECT Australian Sheep breeding values (ASBV's) to breed their own rams and replacement ewes. Keith said that this enabled them to have 100 percent control of the direction of their genetics and to focus predominantly on breeding values to achieve an accelerated rate of genetic gain.
Of the 200 ewes, around 130 to 150 ewes are artificially inseminated per year. AI sires are selected from the MERINOSELECT superior sires based on the FP Plus Index (see explanation below) and have included sires from Centre Plus and Hazeldean. When making their selections, Keith firstly looks at clean fleece weight ASBV's, followed by fibre diameter. The nucleus flock has full pedigrees, and weaners get measured for fleece weight and fibre diameter at their first shearing in April. Worm egg counts are done on rams. Fibre diameter, fleece weight, yield and staple strength measurements are all collected from hoggets and classed for colour, fleece rot, dag score and wrinkle. All classing is done by the family, with no use of professional classers.
Commercial flock
Within the commercial flock, a ram team of 80 home-bred rams are used. In addition to 80 adult rams, there is also a hogget team of 80 rams, giving them a total of 160 fully pedigreed rams with ASBV's to choose from. Keith said that they end up with quite a young ram team as around 40 young rams are used in the flock each year.
Use of electronic identification (EID)
Moving into a ram breeding operation meant a greater need for individual identification of the ewes and rams as well as their progeny within their nucleus flock. Interestingly though, electronic identification was first introduced to the property for the purpose of objectively assessing and efficiently handling the large numbers of sheep within their commercial flock.
On-farm wool sample collection is done on all of their commercial flock and samples sent away for testing. Data from measurements of fibre diameter and fleece weight on individually identified ewes is put though Rampower to calculate flock breeding values and to rank animals on performance within the flock.
Orange tag ewes were the first drop to be tagged in 2010 and objective classing commenced in 2011. They found that a Leader jumbo tag was the most cost effective at $1 per tag and was also excellent for retention and could be taken out of culled animals and re-used. A non-electronic tag is put in at marking and the EID tags are only put in after classing. Culling at classing is based on ill thrift, arthritis and dermatitis in both ewes and wethers.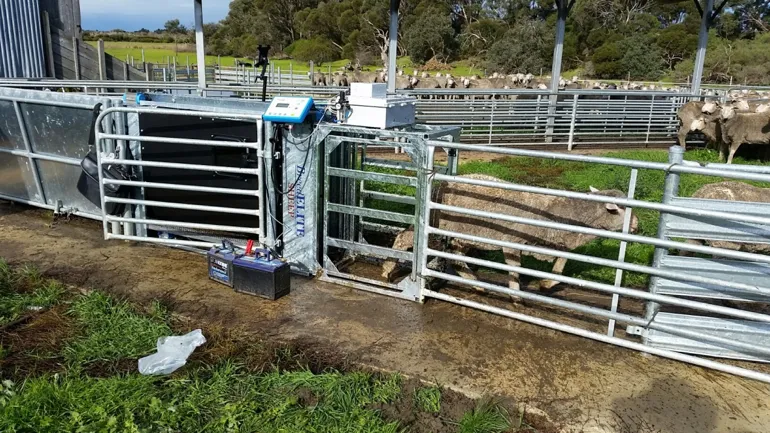 For ease of collection, wool samples from ewes are taken from the site of the pin-bone (not mid-side) in a V-machine for fibre diameter testing. Greasy fleece weight is recorded at shearing and ewes are ranked on fleece value. Yield on ewe fleeces are measured in order to calculate clean fleece weights. A zebra bar code machine, blue tooth EID stick reader and laptop with BreedELITEsoftware is used in the shearing shed to collect the information and takes one person per four shearers. For the nucleus flock, the same measurements are collected; however, this information is downloaded directly to MERINOSELECT and MERIOSELECT ASBV's generated.

BreedELITE software was developed by Greg Johnsson specifically for elite sheep breeding, allowing quick and accurate performance recording within the ram breeding nucleus with minimal labour expense. More recently, Keith has been trialling a new BreedELITE Smart Draft'n'Weigh autodrafterwhich works in conjunction with the software program. This has delivered an even greater labour saving for the enterprise.
Keith stated that the use of electronic identification (EID) within their business has made it easy to collect information on traits of interest without making errors, as used to happen when having to read tags. Collection of the data is faster and more accurate; however, if the information is not utilised it is pointless. The only real benefit of EID is to utilise and analyse the data collected to improve performance within the business.
The total cost of implementing EID into their business has been around $5,000 for the initial setup (not including auto-drafter). Keith has calculated that the cost per year is around $4-$5 per head, which includes the cost of tags, wool testing, labour, data processing and classing animals. In terms of value for money, he believes the benefits will be seen in a lift in flock production and profitability within their wool enterprise in the years ahead.
Keith warned that for commercial producers, it is possible to use EID and collect data for a number of years before the information can be utilised to its fullest potential. EID allows producers to calculate the fleece value from individual sheep from year to year, as well as the ability to track reproductive performance. Due to large variations between animals within his flock, there is potential to cull poor performers in a tough season and ultimately lift the performance of the flock over time.
Yearly management program
Joining is done for six weeks during February / March for a July drop, utilising 1.5% rams in mobs of 1,000 ewes. He currently lambs his commercial flock in mobs of 600. Within the nucleus flock, all ewes are pregnancy scanned and lambed in mobs of 20 to 50 per sire group.
Some genetic blood testing of the top 10 to 20 rams has been done and more recently the flock has been involved in genetic flock profiling. A Poll test has been developed by the Sheep CRC using measurements on animals in the Information Nucleus Flocks and data from the 50k SNP chip. This test is used to identify Polled/Horned (P/H) sires and dams. Keith is concerned with horns and believes that this is one trait that genetic testing could assist in speeding up the progress of attaining a poll flock.
Shearing is conducted in April and crutching is done in January along with shearing of culls, which are sold in January or February. Due to the predominance of annual pastures on Kangaroo Island and a distinct break in the wool in autumn, the move to an autumn shearing has resulted in higher tensile strength. Staple length at shearing is around 95 to110 mm. To manage flies over the spring period, all sheep are jetted. Supplementary feeding with lupins or beans is used for weaners after Christmas and they are given priority on grazing kikuyu.
The overall stocking rate on the property is12 dry sheep equivalents (DSE's) per hectare and around 70 percent of their income comes from wool. As a result of benchmarking they know their actual cost of production which is $9.90 per kg clean fleece weight for the 2015/16 benchmarking year. This is higher that where Keith would like it to be, at a target around $8 to $8.50 (or around the decile two price for 18 micron wool).
Key to success
The Bolto family is aiming to increase productivity whilst maintaining a similar cost structure though labour efficiency, improved stocking rates and increased genetic performance, in particular clean fleece weight. The use of EID and associated technologies has led to an increased accuracy of data collection, in addition to huge improvements in labour efficiency, another key driver of profitability. The Bolto family is well placed to achieve their goals as a result of having a solid breeding objective, access to professional advice, cost-effective use of existing and new technology and the motivation and desire to succeed. As a testament to their success within their ram breeding program, "Redlands KI" currently has the second top ram in the FP Plus index for MERINOSELECT, and Keith hasn't ruled out the idea of one day turning his commercial breeding operation into one of a stud enterprise.