Using the information provided by the water budget along with an understanding of water distribution, quality and seasonal weather patterns can help guide decision making on-farm.
Before making changes in a paddock, consider your whole farm livestock watering system.
Assess your current system:
What does your current system look like? Are the pipes and water points in the right location?
What is the current condition of the pipelines and water points? (E.g. Corrosion, leaks, age of pipes, erosion etc)
Map all existing pipelines, dams, tanks and troughs.
Plan your future system:
Before replacing existing infrastructure map a new water system for the whole property
Identify the urgent and highest priorities changes then work through implementing the new water system even if it takes a number of years.
Get advice when selecting pumps, pipe diameters and pressure-rating's to achieve the desired flow rates
Consider a cost effective system:
use gravity reticulation to move water
use central water points and portable systems
use tanks that can service a number of troughs
cost of water.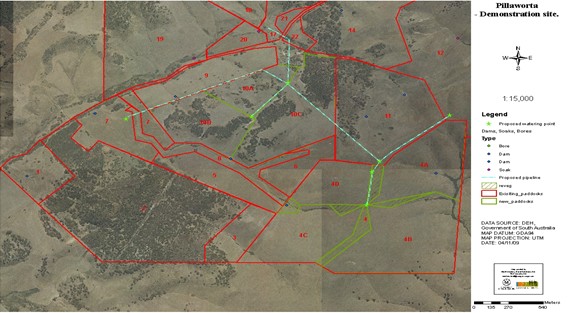 Note: To convert L/year to ML/year, divide L/year by 1,000,000
Water testing
The best way to be certain about the quality of your water is to have it tested. When testing water:
Rinse meters and container in water to be tested. Read off numbers taking note of units.
Stock bores can be tested on freshly pumped water at the trough.
Bores should be monitored at regular intervals (monthly or quarterly), for example March, June, September and December.
EC meters are relatively inexpensive and available at various water equipment dealers.
EC and pH measurements are done free of charge at many Primary Industries (PIRSA) locations.