print
What is WoolQ?
In general terms, WoolQ is a platform that aims to be a digital entry point for woolgrowers and their business partners to input, access and store information and data relating to their wool-growing enterprises. Starting with the eSpeci, WoolQ can provide woolgrowers with a suite of tools to analyse their data to enable them to make more informed decisions regarding the production and sale of their wool.
WoolQ provides a platform for wool industry businesses to develop and promote business or farm profiles and value propositions that can be easily searched and shared by those users wishing to build industry partnerships/relationships.
It also delivers online selling options that allow an alternative avenue for woolgrowers, their brokers and registered buyers of Australian wool to promote and transact their wool interest outside the existing selling venues at a low cost.
What is the especi and why use it?
The WoolQ eSpeci is one part of the WoolQ suite of digital tools. The eSpeci is an alternative to the current paper speci and allows woolgrowers and wool classers to efficiently capture their in-shed clip data at the time of shearing. By switching to a WoolQ eSpeci woolgrowers are able to receive their wool production data back to their WoolQ profile to view and analyse and download in formats such as Excel and PDF.
Feedback from woolgrowers, classers and brokers using the eSpeci has been very positive. Woolgrower Anna Cotton of Kelvedon Estate in Tasmania commented: ''I found the eSpeci really user-friendly. It is extremely logical as it is a step-by-step process. It prompts you along the way and removes the margin of error as everything is pre-set.''
Australia's biggest wool handler, AWH, estimates errors made using a paper-based system cost the industry about $1 million dollars annually. "No-one sees that, it's a hidden cost and it drives
us crazy in wasted time and expense," AWH national wool manager David Mitchell said. "Wool classer specifications prepared using electronic tools have a significant reduction in errors associated with receiving and preparing wool for sale." AWH is supporting and strongly encouraging all wool classers and woolgrowers to adopt the new electronic wool classer specification formats.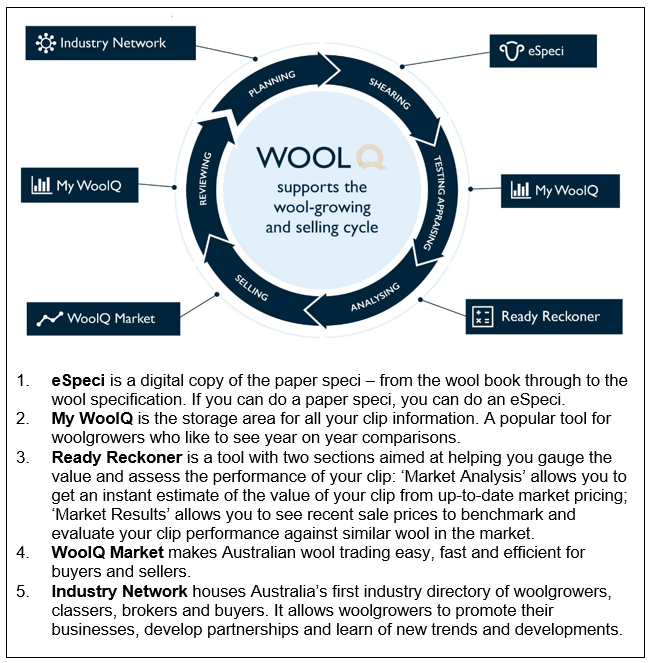 What's the big picture?
Many of the downstream consumers of quality Australian wool are demanding a level of traceability to promote their products. AWI is focused on delivering meaningful data traceability for these consumers. For its part, WoolQ digitally delivers the first stages of that supply chain traceability journey by collecting and storing verifiable data from the shearing shed to the Australian port. All this can happen by swapping from paper speci to eSpeci.
How do I access WoolQ?
Users first need to register at www.woolq.com. Easy-to-follow video tutorials and user guides are available on www.woolq.com along with a customer assistance service.