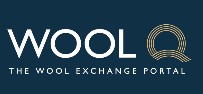 WoolQ™ is a secure online platform where woolgrowers, classers, brokers and buyers can access digital tools to support all stages of the wool-growing and selling cycle.
The WoolQ portal aims to provide a digital hub for the Australian wool industry that delivers information, data, selling choices and trading opportunities to woolgrowers, their agents and other industry professionals, in a single online destination.
The functionality within WoolQ is extensive. Some of the things you will be able to do on WoolQ include:
capture, share and store your clip details digitally (eSpeci);
monitor and analyse your clip, test results and current estimated value of your wool;
use your data for informed decision-making;
identify opportunities to maximise grower returns; and
easily engage directly with the wool industry.
The WoolQ™ eSpeci is an easy-to-use 'app' that captures in-shed wool data electronically. The eSpeci works when you have an Internet connection as well as when you're in-shed without an Internet connection and 'syncs' easily once you are back online.
The WoolQ™ eSpeci also digitises the 'Wool Book' and allows for 'virtual' collaboration between growers, classers, farm managers and brokers. The WoolQ eSpeci allows for electronic submission directly to your broker via an iPhone, iPad or Android device (with a digital signature). Within the WoolQ™ eSpeci you can attach photos, video and save the eSpeci directly to your WoolQ™ account providing you with the ability to compare clips year-on-year and much more!
Further information on all of the functions of WoolQ are available at https://www.woolq.com/