Rations can be formulated for stock under drought, maintenance, growth, pregnancy or lactation situations. Supplementary rations can be added to dry pasture or stubble paddocks whilst fully supplied rations are for growth feedlots or containment feeding.
The program can also be used for budgeting fodder reserves, both in terms of the quantities of feedstuffs to put in store and when calculating alternative purchasing or selling strategies.
The software comes supplied with a database of common southern Australian feed files, additional feedstuffs can be added if lab test data is available. As fodder prices change over time, it is recommended prices are updated before proceeding to calculate a ration.
Ration Book generates a printout of ration components, quantities, cost and nutrient analysis for a defined group of animals eating a diet selected among a nominated set of feedstuffs.
The program produces rations balanced for energy, protein, fibre and macro elements on a least cost basis while aiming to either maintain liveweight and condition score, or maximise growth and feed conversion efficiency.
Proposed rations and projected growth rates can be examined through a gross margins spreadsheet to determine the financial feasibility of lot fed mobs.
Ration Book's simple data entry screens, inbuilt expert systems and precautionary limits means no specialist knowledge is required to run the software. However careful observation of stock should always be carried out when animals are fed high grain rations under drought or feedlot conditions.
Contact SheepConnect SA if you would like a copy of the program.
Loading Ration Book on to your computer
The Ration Book program must be uploaded to your computer from the USB.
Using File Manager locate the file SetupRationBook.EXE on the USB Drive.
Double click on that file. Follow the prompts and the program will be loaded on to your computer.
Ration Book will setup an icon on your desktop.



Double click on this icon to start the program.
Ration Book will open as per the screen shot below.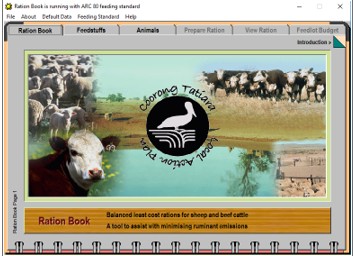 For technical enquiries contact Ian McFarland– E: ian.mcfarland@sa.gov.au
Acknowledgement: Ration Book was developed by Adrian Barber. Coorong Tatiara Local Action Plan have been instrumental in making the program available to producers.