The Enhanced Abattoir Surveillance (EAS) program provides disease and health condition feedback to South Australian producers who have their sheep processed at Thomas Foods International. Grass seeds is a condition that has an impact throughout the supply chain and it is estimated that it cost the industry up to $50 million per year and affected animals can cost the processor up to $30 per head. EAS prevalence estimates for grass seed infestation of lamb carcases (2007-2019) can be seen in figure 1. The proportion of affected lambs at the processor stays at the highest level between 3 and 5% throughout summer and autumn in South Australia (SA).
Between July 2016 and June 2019, 4.8% of SA consignments were registered in the EAS as having grass seeds and an average of 40% of carcases within these consignments having grass seeds. Almost 14% of the grass seed consignments had 100% of carcases affected by grass seeds. This equates to around 2% of all the lambs slaughtered having grass seeds in SA. Lambs from the Murray Mallee and the Upper South East regions in SA were most commonly affected.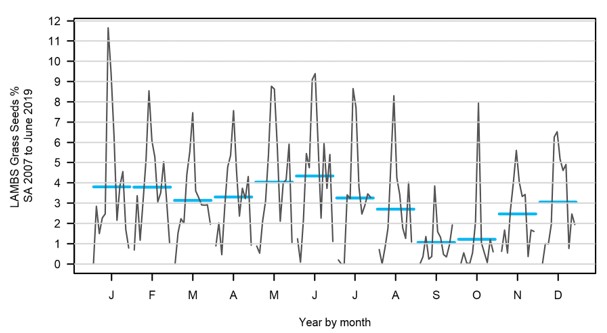 Figure 1: Overall proportion of lambs affected by grass seeds per month as recorded in the Enhanced Abattoir Surveillance programme from 2007 to June 2019. The spikes shown within each month are year to year variation with the average level shown by the horizontal bars (within each month).
Grass seed impact
Grass seeds can penetrate the skin and cause abscesses by lodging in the tissue of the animals. In SA, spear grass, brome grass, barley grass, geranium, silver grass and Chilean needle grass are the main types causing grass seeds issues.
Visible signs of sheep and lambs being affected by grass seeds varies with the quantity of grass seeds and location on the body, but can include:
Head and eyes: Can lead to sore mouth and blindness, which consequently, cause reduced feed intake.
Body and legs: Lameness and reluctance to move (and reduced feed intake). Likewise, wool can be affected, and appear rough and discoloured due to biting or rubbing.
Secondary disease: Grass seed infestation can lead to flystrike, tetanus and in worst case death of the animal.
Overall, this can lead to reduced growth and weight loss.Weight loss of 6-10 kg has been reported for affected animals.
The processor has to trim grass seed affected carcases as this is unacceptable to customers. This, in turn, leads to reduced carcase weight and potentially downgrading, where the entire carcase or parts of it will have to be used for frozen low-value products instead of chilled high-value products. In, worst case, the carcase might be condemned if it is too severely affected.
Grass seed control
Control of grass seeds need to include several management strategies in order to achieve the best results. Strategies include pasture management with the aim of gaining a good perennial pasture, and various animal management approaches.
Pasture management
Mechanical treatment of the pasture such as harrowing and trashing will reduce seed contamination risk but will not eliminate it. Herbicides can be used with or without strategic grazing to reduce the risk as can cross-grazing with other species such as cattle which are less susceptible to grass seeds.
Animal management
This includes shearing animals early and if running merinos, to select for animals with little face cover and few body wrinkles to reduce the risk of grass seeds. Heavy grazing before seed set can also reduce grass seeds. If possible, finishing lambs in feedlots is also an option to reduce grass seed.
For further information on grass seed control please see:
https://www.pir.sa.gov.au/__data/assets/pdf_file/0020/324830/EAS_Fact_Sheet_2019_Grass_seeds.pdf
http://www.makingmorefromsheep.com.au/_literature_123965/Email_Update_16_seeds_tips
For further information on the EAS project at The University of Adelaide please contact Dr Torben Nielsen/Dr Eleonora Dal Grande on easproject@adelaide.edu.au
For further information regarding the EAS program please see Enhanced Abattoir Surveillance Programme - PIRSA or contact the EAS program manager Dr Allison Crawley on allison.crawley@sa.gov.au
Acknowledgement
The authors wish to acknowledge the Primary Industries and Regions South Australia (PIRSA) Enhanced Abattoir Surveillance (EAS) program manager/s (Allison Crawley, Elise Spark) for the provision of this data and Thomas Foods International (TFI) and JBS for participation in the program. Funding for the EAS program is provided by the South Australian Sheep Industry Fund, Animal Health Australia (AHA) and the MLA Donor Company (MDC) a fully-owned subsidiary of Meat & Livestock Australia (MLA). Furthermore, we wish to thank PIRSA for providing the data for the article.