print
Bring home the best genetics from ram sales
What rams you purchase during the ram sales, will have a direct impact on your sheep enterprise for years to come. Even before you attend the sale, it is important you know what you are trying to achieve in your business through your breeding program. Sales can be confusing with all the various figures and measures, but with a clear breeding objective and the use of breeding values and visual assessment, you will be able to bring home the best rams to add profitability to your sheep enterprise.
When purchasing a ram it is important to have a clearly determined breeding objective. A breeding objective describes the type of animal that you wish to breed, depending on your production system or markets that you are targeting. A simple question you should ask yourself, what percentage of your business income is derived from meat compared to wool? This will let you determine which traits you may wish to focus on.
The ram which is presented at sale, is only half the story. A ram's appearance can be influenced by many factors. This can include if the ram was born as an early or late drop lamb, if the ram's mother was a maiden or adult dam, if the ram was a twin or single. Measurements taken on animals are influenced by the genetics but also by the environment and management that they have been reared under.
Breeders try to reduce the variations between animals due to nutrition and age; however some things cannot be controlled. For example; if a ram is reared as a twin it will affect his appearance and raw measurements. Selecting the biggest rams may be just selecting for the early born single rams in the mob. When you buy a ram it's the genetics you want to know about – as that is what will be passed onto any progeny.
Breeding values or ASBV's can therefore be a useful tool in assisting in ram selection. ASBV's describe the genetic merit of an animal and aim to predict how a sire or dams progeny may be expected to perform. The ASBV figure is calculated by using measurements taken by the stud. This figure is adjusted for the environment and management effects. It also allows producers to accurately compare the genetic performance of rams from flock to flock right across Australia.
ASBV's are available on many traits. It is important that producers concentrate on the traits that will have the greatest impact on their profit drivers. These will vary between enterprises but may include growth, reproduction, fleece weight, fibre diameter, worm resistance and easy care. ASBV's can also determine traits that cannot be visually assessed or easily measured such as meat quality, growth rate, disease resistance and reproduction.
A balance of visual and ASBV information should be used when selecting a ram. Obvious structural or other faults that you would normally decide to cull can still only be determined through visual assessment.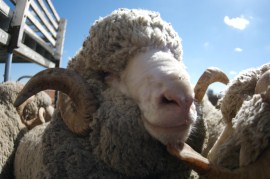 Go Back To Search