The flats and lower to mid slopes are cropped annually to cereals, the non-arable areas comprise native pastures dominated by Spear grass (Austrostipa species) and native salt and blue bushes.
The main crops sown are wheat (1,100 ha) and barley (140 ha) with small amounts of oats and vetch for grazing and feed. Half the wheat area is sown into pasture paddocks and half is sown back onto wheat stubble. Barley is generally sown as a third cereal after two years of wheat. Summer weeds are controlled by a combination of herbicide and cultivation.
CATALYST FOR CHANGE
In June 2008, a university work experience student took a series of photographs of the Coomooroo Hill. Later when Trevor viewed these photographs (Figures 2 & 3), he was disappointed at how bare the paddocks looked. As a result The Gum's identified a number of strategies to help them achieve their farm objectives:
Implementation of rotational grazing management (traditionally set stocked

Reduce paddock sizes for effective rotational grazing using a combination of both permanent and electric fencing; and
Significant potential to increase stocking rate with rotational grazing.

Change type of livestock utilising one block where the high salinity of ground water is reducing livestock productivity and restricting the type of stock that can be run;
Change lambing to July (from 2012), presently lambing in April;
Sow ~ 150 ha of improved pasture of cereals and legumes annually;
Utilise un-arable pasture made up of native pastures and unviable cropping country to improve productivity and rotational grazing.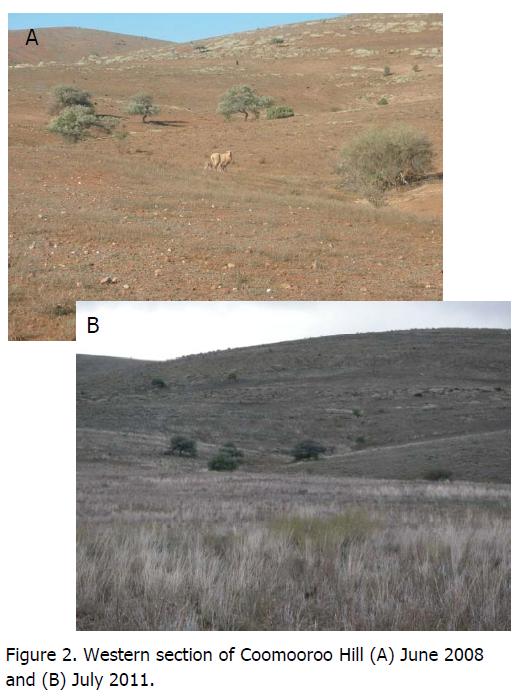 As a result of the implementation of their farm objectives of rotational grazing with improved rest periods together with more favourable seasons, has allowed the pasture to regenerate and greater pasture utilisation.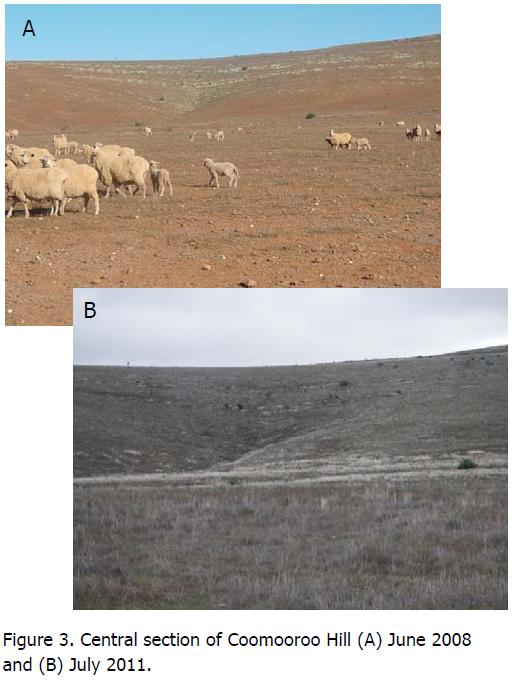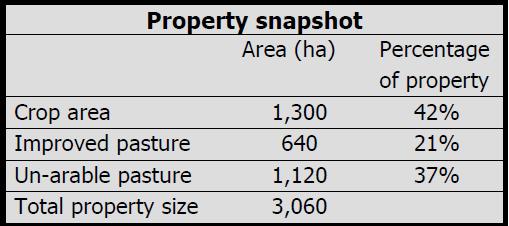 PASTURES
Improved Pastures
Legume content of these pastures is generally low and mainly consists of annual grasses and broadleaf weeds. To improve early growth barley, oats, peas or vetch are either dry sown or sown soon after the opening rains to give early feed for livestock or kept as a standing crop for grazing in late summer / early autumn.

Pasture Cropping

In some of the poorer cropping paddocks cereals are sown at 45 cm spacing with narrow points into stands of native grass pastures. Initially the native pastures were very thin, however this practice has encouraged recruitment of native grass seedlings significantly increasing stand density.

Unarable Pastures

Pastures at the Gum's property are dominated by the native grasses Spear Grass (Austrostipa species), with some Curly Windmill Grass (Enteropogon acicularis) and Wallaby Grass (Austrodanthonia species) (Figure 5). Densities of these grasses vary from paddock to paddock.

Annual legumes were important components of the pasture with Burr Medic (*Medicago polymorpha) and Cluster Clover (*Trifolium glomeratum) the most common species. The other dominant species in the Gum's pasture is Chenopods; Saltbush (Atriplex species) and Bluebush (Maireana species).

GRAZING MANAGEMENT

Strategic grazing management is undertaken at the Gum's property, with planning undertaken using feed wedges, with different areas of the property used at different times of the year depending on feed quality and quantity. Over the last few years paddocks have been sub-divided to fence off different production areas and improve grazing efficiency.

Strategic grazing management is undertaken at the Gum's property, with planning undertaken using feed wedges, with different areas of the property used at different times of the year depending on feed quality and quantity. Over the last few years paddocks have been sub-divided to fence off different production areas and improve grazing efficiency.

Poor Cropping Areas

Several areas of poor cropping soil on the home block have been fenced off and sown to native grass and fodder shrubs. A 560 ha marginal cropping block (Wally's) 10 km north of the homestead has been taken out of cropping (Figure 6). Currently this is fenced into six paddocks, but will be sub divided in 12 permanent paddocks and then further sub divided using electric fencing to improve grazing efficiency. With regular cropping and set stocking the pastures had deteriorated on this block and consisted of annual grasses and wards weed. The combination of taking the land out of cropping and the introduction of rotational grazing has resulted in an increase in native grasses, forbs and shrubs.

Fodder Shrubs

Fodder shrubs have been planted or plan to be planted in poor or difficult to manage cropping areas. These shrubs are a combination of saltbush species and other shrubs, which have performed well in trials as part of the ENRICH program. These shrubs have been established by both seed and as seedlings in blocks and alley farming systems. In the alley farming systems other pastures will be sown between the rows of shrubs to increase species diversity and total dry matter production. These fodder shrub areas will be rotationally grazed once fully established to fill feed gaps during late summer and early autumn.

The fodder shrubs will also provide some protect in adverse weather conditions.

Native Pastures

Dry matter production during the 2009 growing season (March to October) in Coomooroo Hill paddock (100 ha paddock) on the upper slopes averaged 1166 kg DM/ha and 2633 kg DM/ha in the 2010 growing season (see Table below). Curly Windmill Grass (Enteropogon acicularis) (Figure 8) produced 760 kg DM/ha and 675 kg DM/ha of dry matter during respective 2009 and 2010 growing seasons.

The grazing figures for Coomooroo Hill paddock were quite low for the 2010 growing season, low utilisation and associated stocking pressure and rate is attributable to a number of interrelated factors.

Firstly, above average rainfall was recorded both during the growing season and the whole year. Perennial plants such as native grasses and salt and blue bushes which dominate the pasture composition are able to utilise rainfall when it falls, furthermore, the native pasture composition is a mix of both C3 (winter active) and C4 (summer active) grasses.

Secondly, the Gum's do not own sufficient numbers of livestock to utilise the feed produced in years when above average rainfall is received, as stocking levels are maintained at sustainable levels for below average years. Other options to utilise the abundant feed, such as the purchasing of livestock was not considered a management option due to the high price of livestock, other options such as the agistment of livestock was also not available due to the high levels of feed throughout the majority of South Australia.

Set stocking in the past has depleted native vegetation, particularly of the more palatable and nutritious species. Due to the run of poor season over the last 10 years, Trevor has only maintained his stock numbers, while significantly increasing the farming area he manages. This has resulted in considerably lower stocking rates than the long term average and it will take several average to above average seasons for stocking rates to return to the longer term levels. This lower stocking rate has been very beneficial to pastures, particularly native pastures, with long rest periods resulting in regeneration of many species.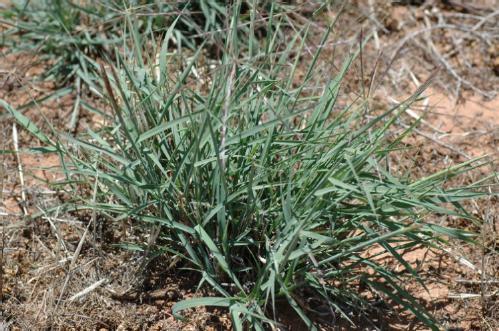 Go Back to Northern Yorke