Productivity and Groundcover Gains Made through Rotational Grazing
Within the next two years, Luke Clark hopes to have all of his non-arable cropping country fenced in to a rotational grazing system for his Merino ewes. Luke continuously crops 1300 hectares and also runs a self-replacing merino sheep enterprise on 200 hectares of unarable country at Bundaleer, South of Jamestown with his parents and bother.
"We have some rangeland, steep rocky country which we can't crop and really is best suited to sheep. We have always run our sheep side of the business the same way and saw rotational grazing as a way to best use our non-arable land and make our sheep management easier." Said Luke
Luke was approached by Daniel Schuppan, Animal Production Specialist, Landmark as part of a Caring for Our Country funded project which aims to assist producers to increase carbon soil levels and decrease erosion through improving grazing management.
Daniel was able to assist Luke, to establish a plan to set up the rotational grazing system and watering points.
"We had already started to fence off the non-arable land from the cropping areas, but Daniel has helped us develop up a plan to divide the 40 hectare paddocks into 20 hectare lots." Said Luke
"We are also going to keep the sheep off the stubbles which will help in building up our organic carbon levels in the soil."
"A few guys from around here have put this system in and we were looking at taking the work hours out of sheep. When it is all set up, we will be able to open the gate and let them wander through, instead of spending time chasing them."
When the rotational grazing system is fully operational, 500 ewes will graze for 5-7 days in each 20 hectare paddock (depending on feed availability) before being moved on to the next paddock.
"The ewes will always be on fresh feed and better feed more often. " said Luke "In the larger paddocks, the sheep would graze out all the good feed in the first 5 days and then spend the next 20 days not going anywhere."
The rotational grazing system allows for greater utilization of feed and encourages an even grazing pattern, which helps to maintain adequate ground cover to reduce risk of paddock erosion.
"There are two challenging times of the year for us, when we need to manage feed." Said Luke
"We are in an area which has a 400 mm winter rainfall but the day time temperatures are too cold and nothing grows. This can sometimes leave us short at the end of winter and over summer/early autumn."
Luke is also working with Daniel Schuppan to identify and establish suitable crops to plant as sheep feed over summer to assist in filling the feed gap.
This season, Luke established a confinement feeding system for his ewes to assist in keeping ground cover on the hills to reduce the erosion risk but also to assist in providing adequate feed to maintain the condition on his merino ewes over summer.
"We set up an old house paddock which had trees for shade and shelter and adequate water for a confinement feeding area. I was a bit skeptical at first, but management was a dream and it worked well." Said Luke
"By putting the sheep in to the confinement area we are able to maintain our ewes better over summer through feeding them barley, lupins and vetch hay which we had grown on farm. It also stops the risk of bearing out the hills."
Over the next few years, when pastures have been improved and Luke has confidence with managing his sheep in the rotational system, Luke hopes to increase his Merino ewe numbers from 500 to 700.
"We are aiming to make the most of our non-arable land, better our sheep management and hopefully through better management, overcome some of our feed gaps."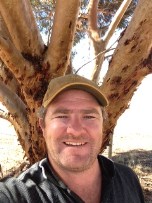 Luke Clark, Bundaleer aims to set up the rotational grazing system for his 500 Merino ewes to assist in maintaining ground cover on the hills country and improve sheep management