print
Sheep groups strengthening sheep enterprise
Following the successful Sheep - Less Hassle - More Profit forums on Eyre Peninsula, four sheep groups have formed which will focus on increasing the skills of individual producers and the profitability of their sheep enterprises. The sheep groups are located at Penong, Poochera, Cummins and Buckleboo and are supported through a partnership between Grain and Graze 2, the EP NRM Board and SheepConnect SA.

The sheep groups will provide producers with the opportunity to build their sheep enterprise business skills through benchmarking, understanding sheep nutritional requirements, utilising available feed and managing stock through seasonal conditions; and will have access to technical support provided by Daniel Schuppan and Mary Crawford from Rural Solutions SA.

Goals and directions have been determined by each group and therefore each group have identified different priorities. A range of issues will be covered in the future by the groups including pastures, fly management, matching livestock and cropping enterprises to land capability, electric fencing, stock yards and farm water plans..

The initial meeting of each group enabled landholders to calculate their effective winter grazed stocking rates per hectare. Autumn and winter is when feed is most limited; this impacts on the farms overall stock carrying capacity. Knowing their winter grazed stocking rates will assist them in determining the nutritional requirements needed for the sheep flock, in particular pregnant and lambing ewes. Using winter grazed areas to calculate carrying capacity does not take into account the land under crop.

DSE/wgha values varied significantly across group member properties and rainfall zones. In the low rainfall zones (200mm) stocking rates varied from 1.35 DSE/wgha to 4.44 DSE/wgha and 5.46 to 12.1DSE/wgha in the 350mm rainfall zone.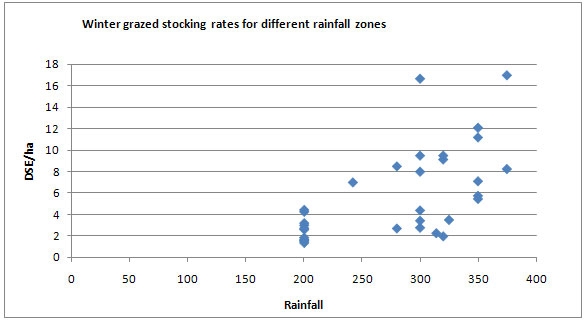 The DSE rating for different classes of stock is dependant on species, size, sex and state of pregnancy or lactation. Livestock gaining weight will need to consume more feed per kilogram of body weight than those just maintaining body weight.

When calculating potential carrying capacity, two rules of thumb should be taken in to consideration. These are firstly, allow 1 DSE per ha per 25mm of rainfall above 250mm and second, 1 DSE requires 400 kg DM (dry matter) per year.

Optimum stocking rate will be determined by net income per hectare, but relates to a stocking rate that is sustainable without harming pasture composition or soil health and without exposing the farm to a risk of income loss during drought.

With the increased interest in sheep there are opportunities to strengthen the enterprise through assessing land capability, stocking rates, pasture utilisation and supplementary feed reserves.

For further information relating to the Sheep groups, please contact Mary Crawford, RSSA Pt Lincoln on Ph 86 883414.