The Goode Sheep – Fun easy care Merinos for the future
Deane Goode
SNAPSHOT
Deane and Prue Goode, sons Henry, Tom and William Goode
20 km South of Kingston, South East, South Australia
5,600 Merino ewes, 350 breeding cow herd
2,772 ha (40-50 ha leased out for potato production), 210 ha under pivot irrigation (lucerne or potatoes)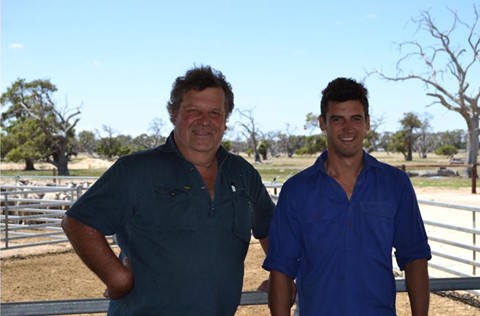 Deane and Henry Goode, Barooka property, Wangolina
Background
With a passion for developing an easy-care Merino enterprise, Deane and Henry currently manage the family's Barooka property just out of Kingston. Over time they have changed from running a mix of Lines blood Merinos and Crossbreds to running a single sheep enterprise of 'Multi-Purpose Merinos.' Financial benchmarking through their accountant has shown that they are now achieving better returns than other clients with crossbreds. Dean commented that "since getting rid of the crossbreds, we have a simpler and more profitable operation with the ability to put a lot more pressure on our genetics."

With 60 percent of their income coming from sheep meat in the last few years, sales of lamb and surplus ewes has been their main profit driver. They ceased mulesing ten years ago and despite not using any chemical fly treatments, have minimal flystrike issues. Shearing is done twice a year in the second week of May and the first week in November. This has also meant a reduction in crutching, with only 15 percent dagged before shearing.
Breeding Objective
Goodes' breeding objective was to produce a plain bodied, non-mulesed, easy shearing sheep that grows under 20 micron, silky soft, free growing wool, as well as turning off wethers by six months of age at 24 kilogram carcase weights. Whilst there are plenty of Merino studs in SA, few were able to provide Australian Sheep Breeding Values (ASBV's) for the traits of interest to the Goode's. In order to achieve their breeding objective they wanted to be able to select for eye muscle and fat depth together with fleece weights, micron and other fleece ASBV's.
For this reason, they began sourcing rams from Ben Duxson's 'Multi Purpose Merino stud, Glendemar' at Marnoo in Victoria, who were producing sheep with the traits they were interested in.
In 2000, Ben joined with two other stud breeders from WA and NSW with the aim of producing the perfect multi or dual purpose sheep. They embraced the technology available to them within the stud industry and used techniques such as artificial insemination and embryo transfer to fast track genetic progress to get the traits they desired. This would not have been possible without the use of Australian Sheep Breeding Values and the 'MERINOSELECT' program. (See Glendemar Breeding Objectives)
Goodes have been purchasing 16 to17 micron rams from 'Glendemar' and in the last ten years have reduced their micron from 23 to 25 micron to 18 to 20 micron. Whilst they have seen a small loss in clean fleece weight, the gains in other traits such as eye muscle and positive fat have meant they can turn off extra kilograms of meat, which has been a bigger profit driver for them at this stage. One of the issues with trying to increase fleece weight is the associated increase in wrinkles. The Goode's aim of producing plain bodied sheep with positive fat has also led to better fertility and increased survivability of weaners, along with less fly issues.
Success in breeding for bare breeched Merinos
In winter rainfall zones, research has shown the susceptibility to flystrike is dependent on the amount of dags, breech cover and wrinkles (Managing Breech Flystrike, AWI publication). Since using rams from Glendemar ,who use objective breeding values for the likelihood of dags, in addition to selecting sheep with reduced wrinkles and bare points, the Goodes are seeing a much lower incidence of breech and body strike in their flock.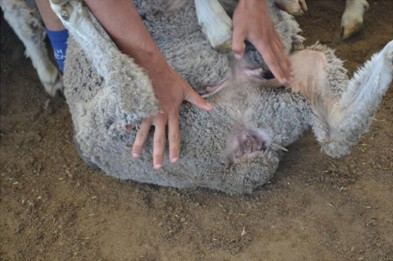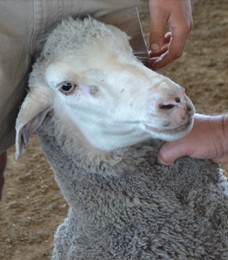 The photos below shows one of their non-mulesed ewes with a naturally bare breech and bare face.
The other benefits apart from the sheep having a lower risk of flystrike, has been the reduction in the amount of labour required to manage the flock. There is less need for timely manual preventative operations such as wigging, dagging and chemical fly treatments. More importantly for the Goodes, has been the ability to confidently cease mulesing on their property.
Shearing twice a year
The thought of shearing twice a year for many producers would be quite daunting; however the Goodes say that they have shearing contract teams lining up at their door who want to shear at Barooka. The shearers get good tallies from sheep with good wool cuts, with the classer commenting that "it's just like shearing crossbreds but with Merino wool."
Deane said that they actually don't spend any more time in the shearing shed than they did previously with one shearing of two weeks and two crutchings of one week each. "We spend four weeks in the shed still, but make an income from the wool each time, as opposed to sorting dirty wool and throwing out dags."
One of the other traits that they keep a close eye on is the mature weight, ensuring that whilst selecting for increased early growth of the wether progeny, the ewe adult weight does not increase. Ewes are typically around 65 to 70kg at condition score three, which also makes the ewes still quite manageable for shearers.
In making the decision to shear twice a year, they were advised that unless they were growing 120 mm length wool in a 12 month period, it wouldn't be worthwhile. The aim is for wool length to be at least 60 mm at each shearing. They currently achieve in the low 60 mm length of18 to19 micron wool at the autumn shearing and around 70 mm of 20 to 21 micron wool in spring. "The six months through the winter months is better for wool growing and an extra two weeks is required in the summer period to get the same wool growth," Deane said. "Ewes average around three kg of greasy fleece weight at each shearing, or six kg per year".
One of the biggest advantages of the twice yearly shearing has been the increase in wool tensile strength, going from 25 Newtons per kilotex (N/ ktex) to around 60 N/ktex.
Yearly management program
Ewes are flushed with lupins and lucerne at joining one week before the start and during the first week of joining to lift conception rates. Previously lambing at the start of June, they have now gone to a mid June lambing to widen the gap between shearing and lambing. They have also started using teasers pre-joining this year to try and tighten up the joining period. "By pushing lambing out a bit later, this allows at least a month between shearing and lambing, which is particularly beneficial to the twin bearing ewes," Deane said. "The ewes requirement for feed is increased by around 30 percent following shearing, so the extra couple of weeks make it easier to meet the ewe requirements prior to lambing,"
Since doing Australian Wool Innovations (AWI) Lifetime Ewe Management (LTEM) course and applying the principles of pasture assessment and feeding to the ewes requirements through pregnancy and lactation, they have lifted reproductive rates from 90 percent to 100 percent of lambs weaned to ewes joined and reduced the percentage of ewe mortalities throughout lambing.
All ewes are maintained at condition score three, pregnancy scanned for singles and twins and managed differently depending on age and pregnancy status. Grain is strategically fed according to condition score and ewe requirements, with provision of better nutrition and shelter given to twin bearing ewes. The Goodes are also starting to look at the effect of having smaller mob sizes of multiple scanned ewes on lamb survival. "Last year we split a paddock of twin bearing ewes very successfully with just a small solar electric fence unit and one tape with no breakouts. We will do a lot more splitting of paddocks at lambing this year. We would like to increase our weaning percentage to 120 percent per ewe joined over the next few years".
Lambs are weaned at 12 weeks of age and shorn in November. Their goal is to sell all wethers for meat by six months of age. They are currently marketing to Cedar Meats and achieving a carcase weight of around 24kg between seven and nine months of age. Lambs are all finished throughout the summer and autumn on lucerne pastures. In the future they would like to market a portion of their lambs direct to restaurants as branded Merino product and so have also started selecting for eating quality traits. The 'Glendemar ' Multi Purpose Merinos has already been shown to have good tenderness and flavour qualities as evidenced by their breeding values and some initial sales of product through Laura Hills Lamb into restaurants such as Penfolds Magill Estates and Coriole.
Ewe Replacements
Glendemar Stud owner, Ben Duxon, classes all the ewe hoggets for Goodes and selects their ewe replacements. Classing is done off shears without the wool on and skin softness plays a big role in selection. The aim is to have thin skinned free growing white wool. When asked about whether they would look into the use of electronic identification in the future to get further information from the wool from ewe hoggets, Deane thought that that they would probably start electronically tagging their younger aged ewes, but that they would possibly benefit more from tracking lifetime ewe fertility.
Another factor that sets them apart from the traditional Merino enterprises is that they only keep ewes until around four and half years old. As a result of better fertility, they have plenty of young ewe replacements coming through the system and can sell older ewes onto other breeders through AuctionsPlus, which adds significantly to the profitability of the overall enterprise. For the first time this year, ewe lambs will be teased and joined as lambs in a further effort to increase the numbers of younger ewes coming through the system.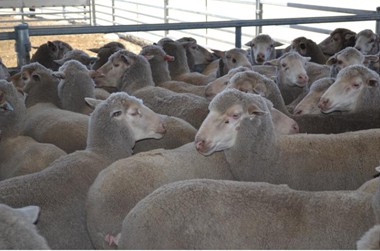 Labour and Sheep Handling
Deane and his son Henry are the only full time labour units on the farm. Casual staff is employed at certain times throughout the year to assist with repairs and maintenance. With a plan to increase stocking rate and sheep numbers in the next few years, they would look at employing more labour. In the meantime, they have invested heavily in a brand new set of undercover sheep-yards, complete with manual labour saving devices including a bulk handler and plans to purchase an auto-drafter this year. With facilities like this, you can see how sheep work can be 'fun.'
Photo below shows their new bulk handler where the grated floor lifts hydraulically to suspend and immobilise sheep at waist height of the operator, which is ideal for numerous animal husbandry operations.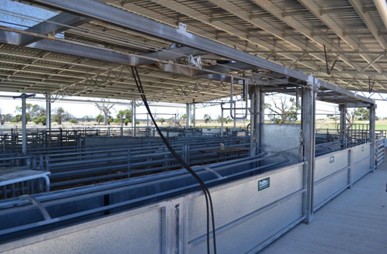 Pasture development
On the Barooka property, there are three distinct land classes ranging from grey heavy alkaline clay soils consisting of predominantly annual pastures, through to red sand over limestone clay and grey sand over limestone clay. The latter two soil types are suitable for irrigated potato crops and lucerne. Deane explained that around 40 to 50 ha of land is leased out each year to potato growers who develop the irrigation and infrastructure of the pivots and when they move to the next area, the Goode's sow in lucerne pastures for their lamb finishing operation. A few years ago, they were nearly ready to give up on growing lucerne due to its lack of persistence and difficulty to manage. However, the combination of new varieties such as Sardi 7 and the use of a DBS seeding machine had been a game changer for them, with lucerne establishing and persisting well within their system. The DBS is a three slot system which gives each seed the best possible chance to set strong roots for healthy growth and is proving to be extremely successful for lucerne establishment.
With a total of 210 ha under either irrigated lucerne or potatoes, the current stocking rate is around four sheep per acre over the whole property. Over the next ten years they plan to expand this to 400 ha under irrigation and lift ewe numbers to around 7,000 ewes.
Additionally, Deane plans to look further into the marketing of both Merino lamb meat into high end restaurants and quality skins for clothing garments and is keen to promote the 'Goode' news Merino story. Deane is committed to the cessation of mulesing as he sees that it is the only way forward for the Merino Industry. "There is no way the protesters will go away. If nothing is done, the same arguments will be occurring in ten or twenty years time and there will be fewer Merino breeders left" he said. "Young people need to be encouraged into working in the Merino industry by making it an industry to be proud of. This means running healthy, productive sheep with no mulesing, no body strike, no topical preventative treatments and minimal losses. In this way meat and wool products will come from stock that is ethically treated, sustainable and raised with minimal chemicals - just what the end consumers are asking for." The Goodes' enthusiasm and passion for the Merino was certainly evident, and with recent increases in wool prices this will further add to the success of their enterprise.
Goodes' ideal Merino enterprise

To have staple length of 90 to100 mm from six months wool growth.
To be able to sell all surplus lambs by nine months of age at 24kg carcase weights.
All genetics to be positive for eye muscle and fat.
No mulesing required.
No preventative fly treatments.
Continue pursuing branding options for Merino meat.
Very soft and thin skins suitable for a range of clothing products.
Ability to brand on the following claims:

low stress (non-mulesed meat and wool products)
healthy soil
clean air
sustainable farming
Breeding Objectives: Glendemar Merino Stud, Marnoo Victoria
Glendemar's current breeding objective, as outlined in their catalogue: "We have a plan for our sheep – it is based on what will make our clients more money from meat, wool and surplus sheep". "We know from evidence in all other animal production industries that the best way to achieve genetic gain and improve the profitability of our sheep is to embrace genetic technologies and fully utilise available breeding values and genomic information. We combine ASBV's with visual assessment and common sense to breed sheep at the EDGE."
The major traits within their breeding objective include:
- Post weaning weight (PWT): increase to enable early growth for fast turn off of lambs and ability to mate ewe lambs.
- Adult ewe weight (AWT): contain adult weight to maximise sheep per hectare while maximising early growth.
- Carcase muscling (PEMD): increase to improve carcase shape, increase dressing percentage and ewe reproduction.
- Whole body fat (YFAT): improving ewe fertility, lamb survival and the ability to cope with tough times.
- Resistance to worms (YWEC): lower the reliance on drenching, improve animal health.
- Staple length (YSL): achieve combing length at young ages, twice yearly shearing, eliminates wrinkle.
- Clean fleece weight (CFW): increase the amount of clean wool we cut per hectare.
- Fibre diameter (FD): improve the value of clip.
- Likelihood to have dags (LDAG): reduce the need for crutching by finding sheep less prone to scour.
Goals to achieve by 2021
- Weaning 140% in adult sheep.
- 90% polled.
- Whiter and softer wool.
- Sound structure and improved carcase shape and width.
- Intramuscular fat in the top 10% of the breed.
-Free of wrinkle, have clean points and be mules free.
How will Glendemar achieve all of this?
- Extensive use of ASBV's in ram and ewe selection.
- Be at the forefront of the use of genomic technologies.
- Use our collective knowledge of 100 years of breeding sheep.
- By working closely with our clients to achieve their business goals.
- Use of Electronic Identification (EID) systems to streamline data management and identify superior animals.