PIRSA's On-Farm Emergency Water Infrastructure Rebate Scheme can assist livestock producers to improve distribution of water supplies, and achieve better utilisation of pastures and increased animal production.
Providing water in every paddock enables stock to graze the whole paddock more evenly and use all of the available feed. It also saves animals from losing energy walking to and from water" says Tiff Bennett, PIRSA Livestock consultant.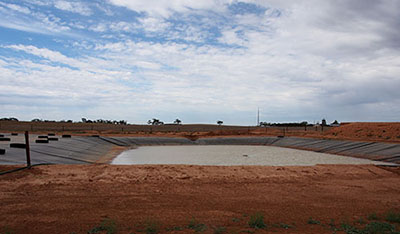 The Rebate Scheme offers a 25% rebate to primary producers affected by drought, for the costs associated with the purchase and installation of water infrastructure on farms. This can include sinking new bores, installing pumps, laying down more pipes, and installing troughs and tanks.
Purchasing new equipment and services through local resellers and suppliers supports local economies that are struggling because of drought so the wider rural community also benefits.
The Program has an allocation of $4.75 million from the Australian Government and is open until the 31st March 2021.
Guidelines and application forms are available at www.pir.sa.gov.au/onfarm-water-rebate, via emailing PIRSA.recovery@sa.gov.au or calling 1800 255 556.